"Social Media a force for NEWS as debated at #BBCSocial conference of media and communications professionals yesterday. Church communicators take note: full story here"
That is my tweet – rounding up what was a thought provoking conference at BBC North yesterday (Tuesday 29th October) in MediaCity Salford. #SocialMediaWhatsTrending was a conference held by senior media professionals from all branches of conventional, broadcast and online media at the new home of the BBCNorth in MediaCity in Salford Quay yesterday. The BBC Academy conference was attended by a couple of hundred media and communication professionals drawn from across the spectrum of news and media all keen to hear and join in the debate on the role of social media on the formation of news, newsmaking and audience engagement.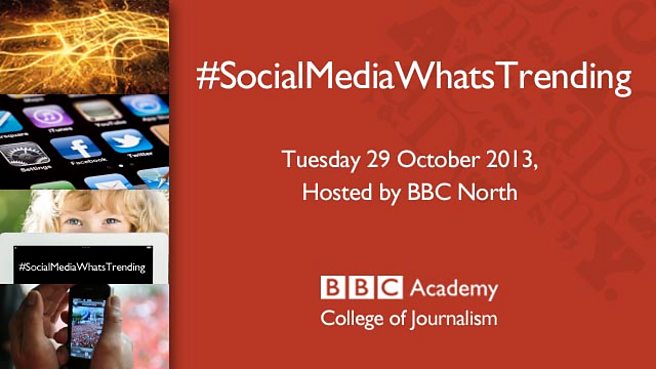 With an expert panelists from Broadcast News, Online News Makers and conventional printed media, the debate covered topics a broad as 'security and privacy' to 'visualising radio' through visual content and onto 'live streaming of news' from conflict zones. Speakers and Panelists included: BBC Breakfast's Steph McGovern, The Controller of Radio 1 and 1-extra Ben Cooper, Radio Five Live's Rachel Burden, the Guardian's James Ball, The Telegraph's Martha Gill to name a few. Also joined by heads of of online media for the BBC (Chris Hamilton), ITV (Tim Gatt) and Channel 4 (Anna Doble), new media channel VICE media (Tim Pool and Alex Miller) and Newsnights Editor Ian Katz – a whirlwind of discussion on newsmaking and newsgathering within the realm of digital and social media ensued. The conference was live streamed as part of the BBC Academy's training sessions for journalists. Soon to be made available for ongoing reference, #SocialMediaWhatsTrending was an unmissable selection of keynotes, industry exposee and masterclass for anyone engaged in newsmaking or media engagement. So what was in it for Church Communicators and why should we take notice? BBC Journalist and blogger Charles Miller said in his blog during the conference: "The direction of travel in the media landscape is clear enough: away from one way journalism and towards interaction, away from freestanding media, towards a mind boggling tangle of  interlinking channels and devices. As James Purnell, BBC director of strategy and digital, said in an opening message to the College of Journalism's #Socialmediawhatstrending conference, interactive content will be at the heart of a new vision for the BBC. Instead of informing and entertaining its audience, the Corporation will, to an extent, invite them to inform and educate each other. What's harder to judge without the benefit of hindsight, is the relative scale and importance of the technological and social trends, and therefore how to calibrate the right response to them." This sentiment has important implications for all church communicators. Not just in what communications channels we should use to engage with our audiences, but also how we engage with news makers to provide them with our content or what hey call 'User Generated Content' (UGC). But the discussion goes beyond that. If Radio 1 can recognise a need to 'visualise radio' to reverse the downward trend in listening figures of its target 'Generation C' (Born After 2000) and 'Generation Y' (Born after 1980 ) audiences through what they are calling Listen, Watch and Share – isn't there a strong parallel of the work that we must do to reverse the trends on church attendance and engagement? Indeed is this not akin to the 'reimagining' we set out to accomplish? The importance of user engagement through the channels through which audiences want to engage cannot be overstated. James Cooper, The X-Factors senior interactive producer talked about how they had created additional audience engagement through the use of  iPhone APP technology, saying "…This is the way that everything is going. Although we have a massive audience for our broadcasts, we need to try to keep the engagement for those using other platforms outside of conventional viewing and outside of our viewing season." For church communicators there is much to be applauded here – although we can only dream of such participation numbers – parallels are obvious. Instead of a Saturday Night audiences and need to engage with them through the week we have a Sunday morning 'audience' (pardon the media style reference) and if it can be enhanced and further engaged through social and digital media – as part of our reimagine our mission and ministry – isn't that worth investing in and learning from? Bishop Mark tweeted me yesterday following my enthusiastic tweets on the conference saying: "@stiltwalk is going to be even more irrepressible after this conference! Should I take cover?" My response was:"@BishopMark1 with the changes in social media for news gathering taking cover may not be enough … interesting stuff for our learning here." My point being that we can learn from how newsmakers and newsgathers use these tools, because they are engaging with an audience that is not always open to listening to everything that they are saying and certainly one that is not easily persuaded (sounds familiar doesn't it!). So in wrapping up, the world of newsmaking and newsgathering is changing from broadcast to dialogue and in doing so it is making great strides in the use of social media and digital technologies to reach out and better engage. We must do the same if we are to 'have a presence in every community' – how we do it can be enhanced and enabled through these new media channels. #SocialMediaWhatsTrending could be "#The ChurchofEngland – We're TrendingInDurham" … lets get with the action. The conference proceedings and keynotes will be available from Monday 4th November at: http://www.bbc.co.uk/academy.